200,000 Miles!!
On Wednesday night, our family hit a milestone.  My car, a 2000 Nissan Maxima, eclipsed the 200,000 mile mark!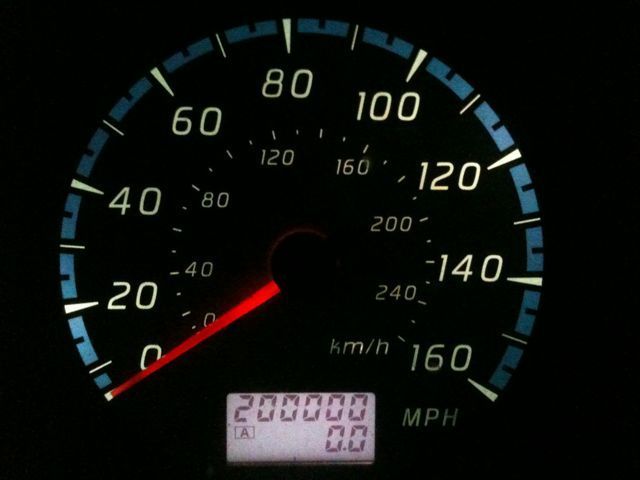 A Paradigm Shift in Materialism
I've been looking forward to my car's mileage anniversary for months now.  Obviously I'm pretty pumped about this, but many of you are probably thinking, "Why are you driving an old piece of junk?"
Well, since our family's epiphany about the way we handle money, we've changed our attitudes about stuff.  We've tried to live within our means and eliminate the vicious cycle of consumer debt.  Instead of a brand new car with astronomical payments, I value no car payment, affordable car insurance and extra money each month to pay off student loans.  Each ding, dent, and extra mile on my Maxima is another badge of honor!  I don't want to keep up with the Joneses, just for the sake of keeping up with them.  Besides, it's still running in great condition, and has had no major issues since I replaced the clutch about 150,000 miles ago (it's a 5-speed manual transmission).
It's So Hard To Say Goodbye To Yesterday…
I don't know when my Nissan will give up the ghost, but I have a feeling the actual car will fall apart before the engine ever will.  I'm not sure when we will get a new(er) car, or at what point we cross that threshold, but for now, I'll enjoy cruising in my ride, knowing I got more miles out of it than I ever thought I would.
What About Your Ride?
Tell me about your car — how many miles are on it?  Are you in the 100k or 200k club?  When is the right time to get a newer one?  Do you "drive it 'till it dies"??
Follow MyMoneyMinute on Twitter