There's An App For That: The Grocery Game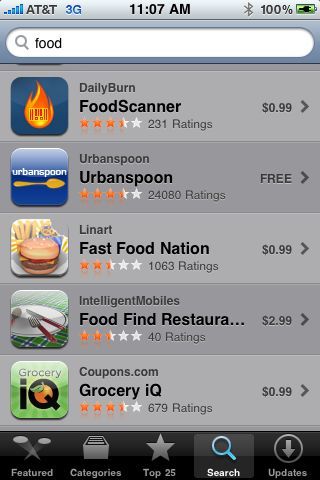 Not but a few years ago, my wife and I would routinely eat out every meal – and I mean EVERY meal. We justified it with long work hours and longer commutes. Who wants to get home at 8 or 9pm and then make dinner, right?
An Eye Opener
We finally pulled our heads out of the sand (and other various places) and realized that 2 sit-down meals/day x 30 days/month = in the ballpark of $1,500 PER MONTH!! We were getting fatter and poorer at the same time.
FOOD – The Ultimate Budget Buster
It sounds funny, but while we graduated from grad school with the Mt. Everest of all debt, it was recognizing our astronomical food costs that finally triggered a need to trim our budget. Why? Probably because the student loans can't be changed – we just assumed we'd make payments on them for the next 30 years just like our mortgage – it was not going to change. However, food is a cost that was out of control, but can be changed with some effort.
There's An App For That!


The Grocery Game
We still struggle with eating out too much, but the one application that's helped us eat more homemade meals is The Grocery Game.
The Grocery Game's premise is simple. Each week, you buy a Sunday paper and clip coupons from ads such as the SmartSource and Red Plum, and file them away. The Grocery Game has access to pre-release weekly specials from most major grocery and drug stores. They match up weekly specials with the coupons you have on file. So not only is the product on special, you also maximize savings by adding a coupon on top of it, which many times is doubled or tripled, which magnifies the savings!
The weekly list is color coded: black means buy if you need it (only a decent savings); blue means significant deal (stock up while it's cheap!); and green means with the sale price + coupon, that item is FREE!

What's The Big Idea?
The idea behind The Grocery Game is that you stock up on items when they are at rock-bottom prices, so you don't have to buy them later at regular price. For instance, we have deoderant we bought for $0.25, and several months worth of cereal and we never paid over $1.00/box. Other items like meat, toilet paper, and air fresheners were all purchased at well over 50% off. All products are major brand labels.
Cons
The cons of using The Grocery Game all are based on the sacrificing of convenience. When you eat out, you don't have to plan a meal, or keep an inventory of food at home. It is time consuming to clip coupons and establish a filing pattern. You also spend more early on while you are building your inventory. Most of the cons relate to establishing a system, and with anything, it gets easier the longer you do it.
Pros
Since you're trying to break your excessive restaurant habit, ANY new system will have kinks to work out. Even The Grocery Game's own website admits it takes a few months to work through a coupon cycle and build your inventory. The savings are obvious, substantial, and forces us to eat at home more because of the sunk cost of groceries in the fridge. We also love the "thrill of the hunt" to find the best deals, and in a twisted way, provides us an activity to do each week together that saves us money, when otherwise we'd be out on the town spending money.
Cost
The Grocery Game charges every 8 weeks based on how many stores you want lists from. Weekly lists from one store costs $10 every 8 weeks. Additional store lists are $5 per 8 weeks. They carry most major grocery stores and drug stores, so for example, access to 8 weekly lists for Kroger grocery store & CVS drug store would be $15 – that's less than $2/week!
Personal Account
Later this week I'll post an interview with Julie, a neighbor of mine who is completely entrenched, and winning, at The Grocery Game.
Have you tried clipping coupons or playing The Grocery Game? Is FOOD the ultimate budget buster? Let me know how food fits into your budget – leave comments below!