Sinners to Saints: What To Learn About Success
When nothing seems to help, I go and look at a stonecutter hammering away at his rock perhaps a hundred times without as much as a crack showing in it. Yet at the hundred and first blow it will split in two, and I know it was not that blow that did it, but all that had gone before.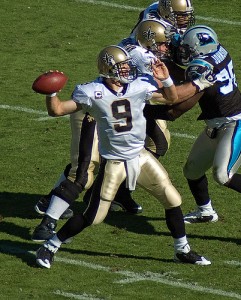 We Are The Champions
Congratulations to the New Orleans Saints on their victory in Super Bowl XLIV! The Crescent City and the State of Louisiana will be partying from now through Mardi Gras, celebrating their team's victory over the Colts.

The celebration got me thinking about the successes in life. They often feel few and far between. Afterall, every year a Super Bowl celebration on one city means 31 other cities are left with some level of disappointment. So how should we view success and deal with the inevitable failure in life?

The Struggle
Before success comes the failures. How many times did you see video clips of Saints fans from 20 years ago, with paper bags over their heads proclaiming their consistently horrible team the "Aints" instead of the "Saints"? Thomas Edison failed thousands of times before hitting successfully on inventions that altered the history of the world. How many losing seasons have the Cubs endured; yet how satisfying will it be when they finally win the World Series? Just ask Red Sox fans.

What I learn from this, is that the greater amount of failure and hard work you put in, the more meaningful & satisfying the success.

The hard part is shifting your thinking to where you understand that failure is just part of the road on your way to success, not an end in itself. The best article I remember about embracing failure comes from my blogging buddy, Financial Samurai, in his post titled "You're Rejected!". When I'm struggling with setbacks, personally or professionally, it helps to read articles like this to keep proper perspective!

Share Success With Others
Funny commercials come and go. Millions of dollars were spent on promoting South Florida and the Super Bowl itself. But what is the lasting memory for me? Super Bowl MVP Drew Brees, nearly in tears, holding his infant son and reflecting on his journey that finally ended with a championship.

Success just isn't the same unless you share it with others. Having a spouse, team, city, or even state behind you — walking with you through the pitfalls, laughing and crying with you through the journey, or working into the night with you to accomplish a goal — without such support the accomplishments are at best miniscule.
That reminds me — swing over to PT Money and congratulate PT, a Louisiana-native, on the Saints Super Bowl win.  It's fun to share in others' success, isn't it?

Conclusion
So when you run up against one of life's failures, remember it is a prerequisite to success. Like the quote above indicates, just keep pounding the rock. When the rock finally splits, you'll have such a greater appreciation for your success when you recognize the previous blows that came before it.